Victron Energy have a comprehensive range of Battery Monitors, Battery Balancers, BMS and Shunt options, plus a wide variety of panel and system monitoring solutions (local & remote) such as the Victron GX product range for example.
There's also a range of complementary accessories. Amongst the many accessories are a range of Temperature Sensors, to name but one product group.
Added to all this is the free and ever popular VictronConnect app, plus the VRM Portal (also free) – where device monitoring, product configuration, firmware updates and data can all come together.
The beginning and the BMV range
In this blog though I want to draw your attention to where all this integration started – the stalwart BMV range.
The BMV range consists of products with BMV-7 in the model name; earlier versions had a 6 prefix. Below I highlight the differences between the various current models – so you can be sure you choose the right one for your application and budget. The range consists of:
BMV-712 Smart (6.5 – 95 V, 1 – 9999 Ah, Bluetooth built-in, Auxiliary input)
The models below, without Bluetooth built-in, we collectively refer to as the BMV-700 series:
BMV-702 (6.5 – 95 V, 1 – 9999 Ah, Auxiliary input)
BMV-702 [Black] (6.5 – 95 V, 1 – 9999 Ah, Auxiliary input)
BMV-700 (6.5 – 95 V, 1 – 9999 Ah)
BMV-700H (60 – 385 V, 1 – 9999 Ah)
This BMV (Battery Monitor Victron) range are a group of high precision battery monitors. Their essential function is to calculate ampere hours consumed and the state of charge of a battery. Think of these monitors as your battery 'fuel gauge', with a time-to-go indicator and much more.
Each model comes with a square bezel overlay (if you wish a square gauge look as opposed to round), a securing ring for rear mounting and screws for front mounting.
Any model can be mounted in a panel of your choice with a 52mm (2.0 inch) aperture or in one of Victron's optional bespoke wall enclosures.
A 500A/50mV shunt, fitted with a quick connect PCB is part of every product package. Alternatives shunts are available if required: 1000A-50mV, 2000A-50mV, 6000A-50mV.
All models come with 10m of 6 core UTP cable with RJ12 connectors and a power supply cable complete with fuse.
The BMV range are all compatible with VE.Smart Networking.
Note that although the BMV-702, BMV-702 (Black), BMV-700 and BMV-700H do not have Smart Technology built-in, they can all be updated to use it with the optional VE.Direct to Bluetooth Smart dongle. The only downside is that means the VE.Direct communication port is now in use for the dongle, so you cannot connect it to a Victron GX device as well.
If you want Victron Smart Technology and GX device connectivity, then buy the BMV-712 Smart. If you don't need the added functionality of the 712 Smart or are on a budget, then choose one of the other models to suit your needs.
BMV-712 Smart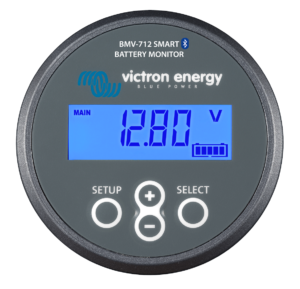 The **2 in the product name refers to the fact this product features a second input which can be programmed to measure the voltage (of a second battery), or battery temperature, or midpoint voltage.
BMV-702
The 702 has the same features as the 700 but in addition (just like the 712 Smart) it has an auxiliary input. This can be used to measure the voltage of a second battery, or temperature using the temperature accessory, or midpoint voltage.
BMV-702 (Black)
Just like the standard grey coloured 702 but with the black colour option.

BMV-700
This is the base model for batteries in the 6.5 – 95 voltage range and battery capacities from 1 – 9999 Ah.
Unlike the BMV-702 and BMV-712 Smart, the 700 the does not have an auxiliary input.
BMV-700H
The BMV-700H is the high voltage version (60 – 385 voltage range) of the BMV-700 (6.5 – 95 voltage range).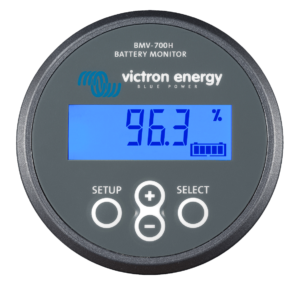 The BMV-700H is supplied with a shunt mounting box.
Note: The BMV-700H is suitable for systems with grounded negative only, as the battery monitor is not isolated from the shunt.
Accessories & related products
These are just some of the accessories and BMV related products that are key to battery monitoring and the good maintenance of your batteries. Others such as the GX GSM modem and the Smart Battery Sense can be found on the comprehensive accessories page.
Temperature Sensor (use the auxiliary input of BMV-7*2 models to show temperature on your BMV using this accessory)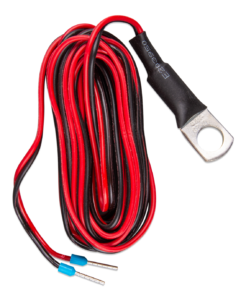 Shunts (1000, 2000, and 6000 A/50mV sizes which are alternatives to the standard 500A/50mV shunt supplied with each BMV)
Battery Balancer (equalizes the state of charge of two series connected 12V batteries, or of several parallel strings of series connected batteries)
Victron GX product range allows expanded battery monitoring options, both local and remote, when used with a BMV (example GX device shown)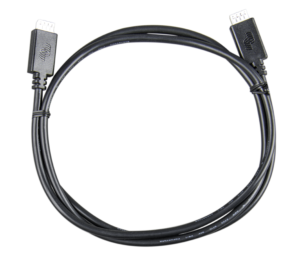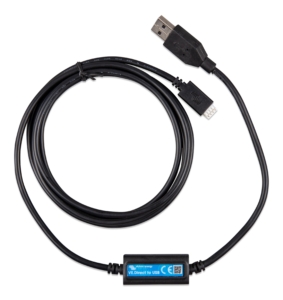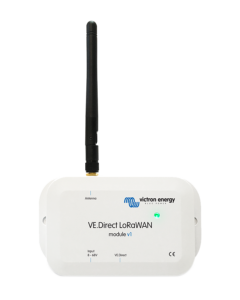 Conclusion
I hope this blog has given some insight into our basic battery monitoring choices and how they can expand to cater for a plethora of system options.
Oh! — and if you've read this far that includes (for the tinkerers amongst you) an option to join a Beta programme and also experiment with the GX range of open source software. Start here if that appeals to you.
John Rushworth